Once you have downloaded your needed TeamViewerQS program, open it. You will get a screen similar to the one shown here: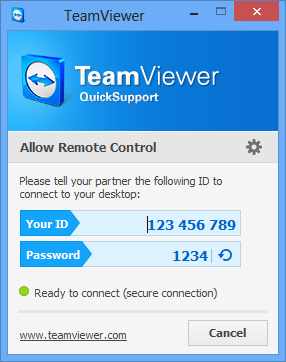 Once this screen is up,[skype] on skype. If you are unable to skype, due to issues with the computer, you can first contact me using the
Contact Me
page. I will need from you your ID and the attached password. This password is random and changes every time. With this information I can then log in and start to work on your computer.
Please note that for your and my best interests and security, it is preferable that you are behind the computer the entire time. This is to show that the job you have requested gets done, and that no harm has come to your files and/or programs during my cleaning. However, should you choose to trust me, your presence is not mandatory.
On the website has some smooth listening Jazz for your listening pleasure. While I am cleaning your computer, you can kick back and enjoy the music.